We've lived in the Fayetteville, NC area for a little over 2 years now. Since we moved to the area I have been dying to go to Charleston, SC. Home of the finest cuisines, richest history, and some of the most beautiful and unique architecture.
This year for our anniversary we decided we would head to Charleston and finally see what everyone was raving about. Boy, did we find out!
LODGING.
One reason we hadn't traveled to Charleston sooner was the price of lodging. We could never find a hotel, Airbnb, or shack that was under $300 per night! Maybe we were a bit last minute at times but sheesh! This time we lucked up and found an amazing quaint apartment just a few blocks from King Street on Airbnb. It had the most comfy and cozy sunroom and rooftop deck (not pictured but click HERE to check it out). King Street is one of most popular streets in town. There are tons of bars, restaurants, hotels, yoga studios, shops, yoga studios, oh and did I say yoga studios?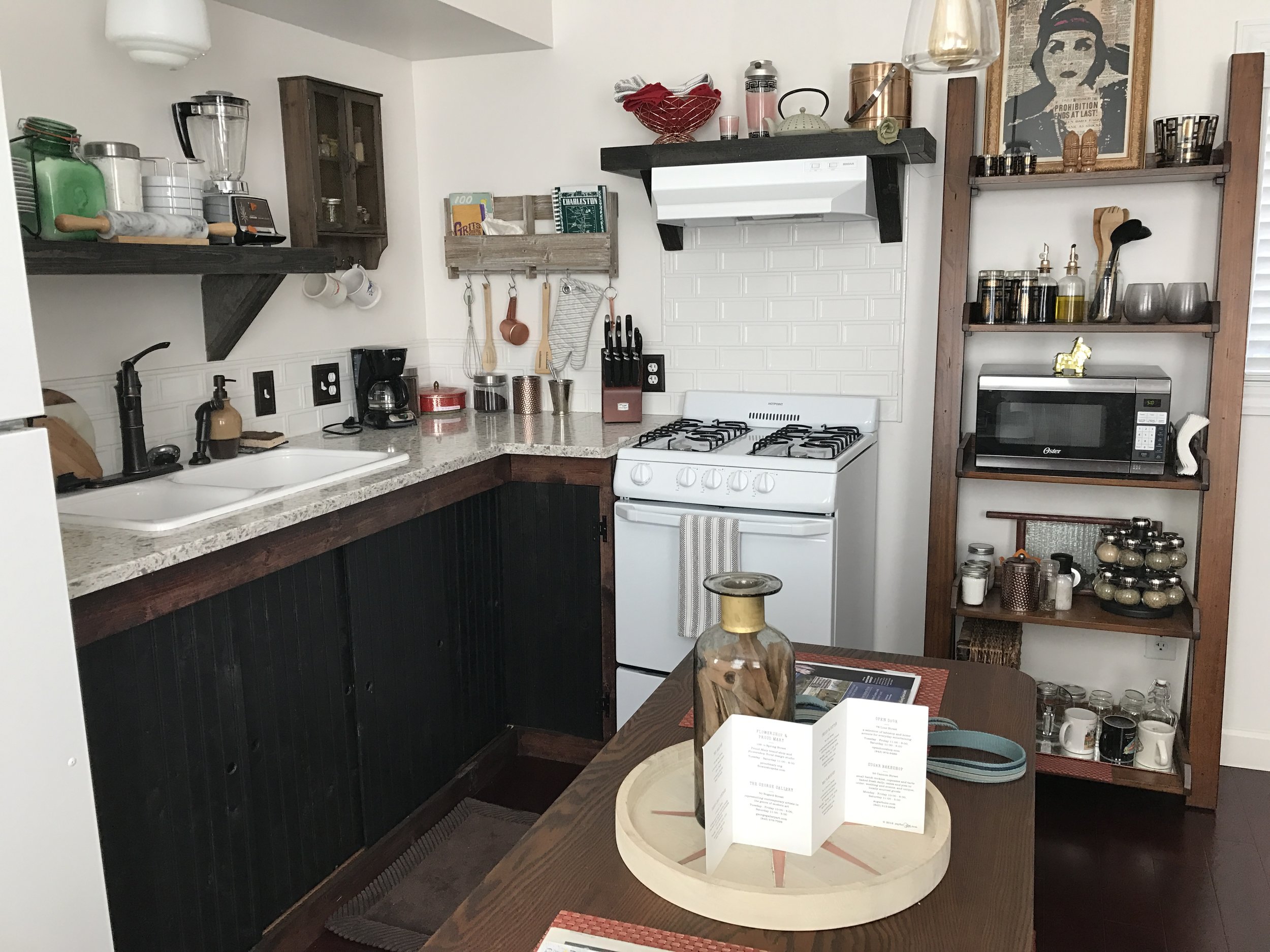 GOOD EATS.
Taco Boy
Although Taco Boy wasn't on our list I thought it would be a great place to start once we arrived. Taco Boy is a cantina that specializes in tacos and nachos. I loved the atmosphere and the servers couldn't get enough of Sophie and Scout. They were well hydrated and loved by the time we left. I choose to indulge in three tacos: Kimichi, Al Pastor and the Avocado Tempura. I have to say the tacos were pretty yummy but I think I will definitely have to try the nachos next time. They looked awesome!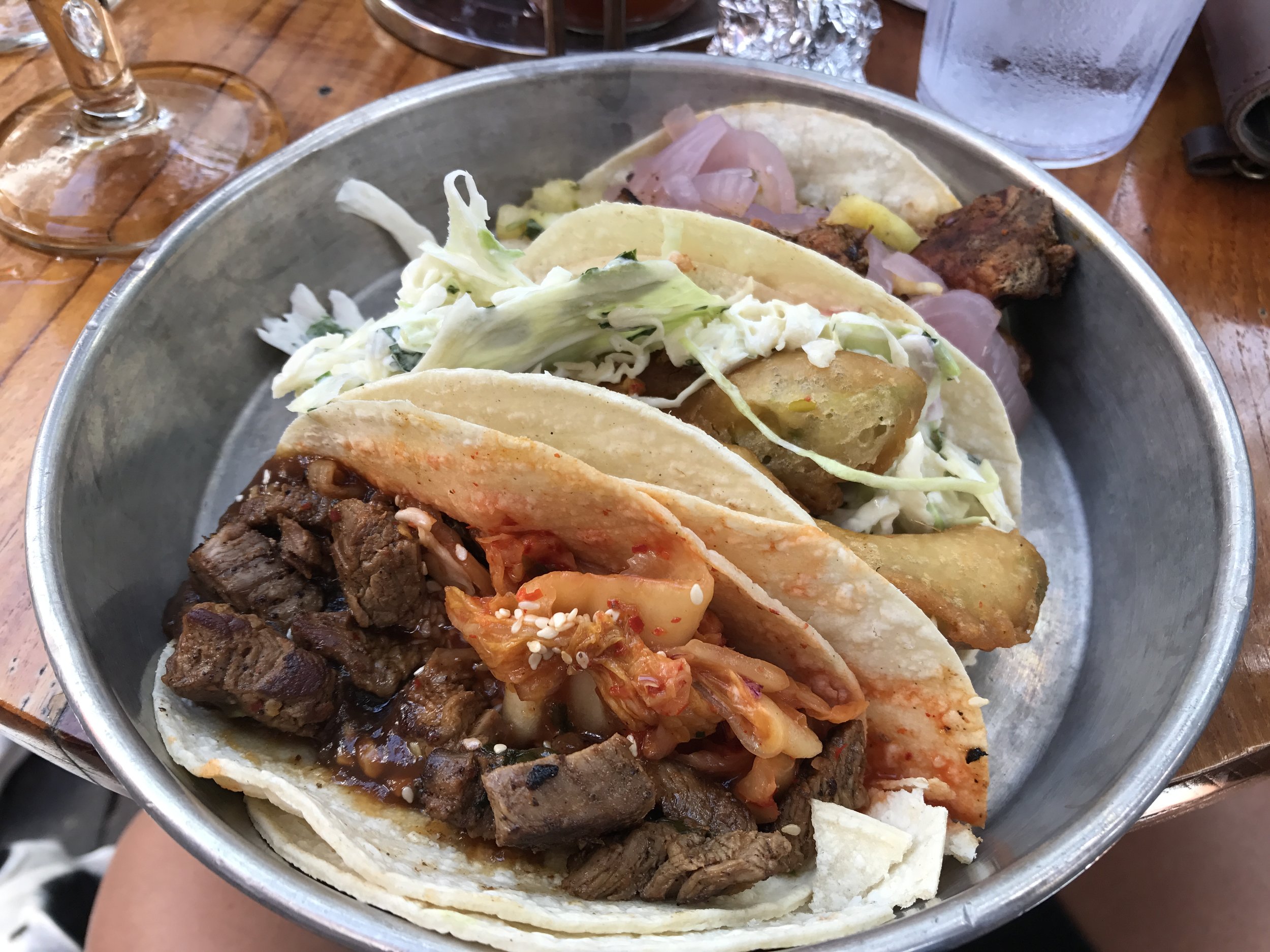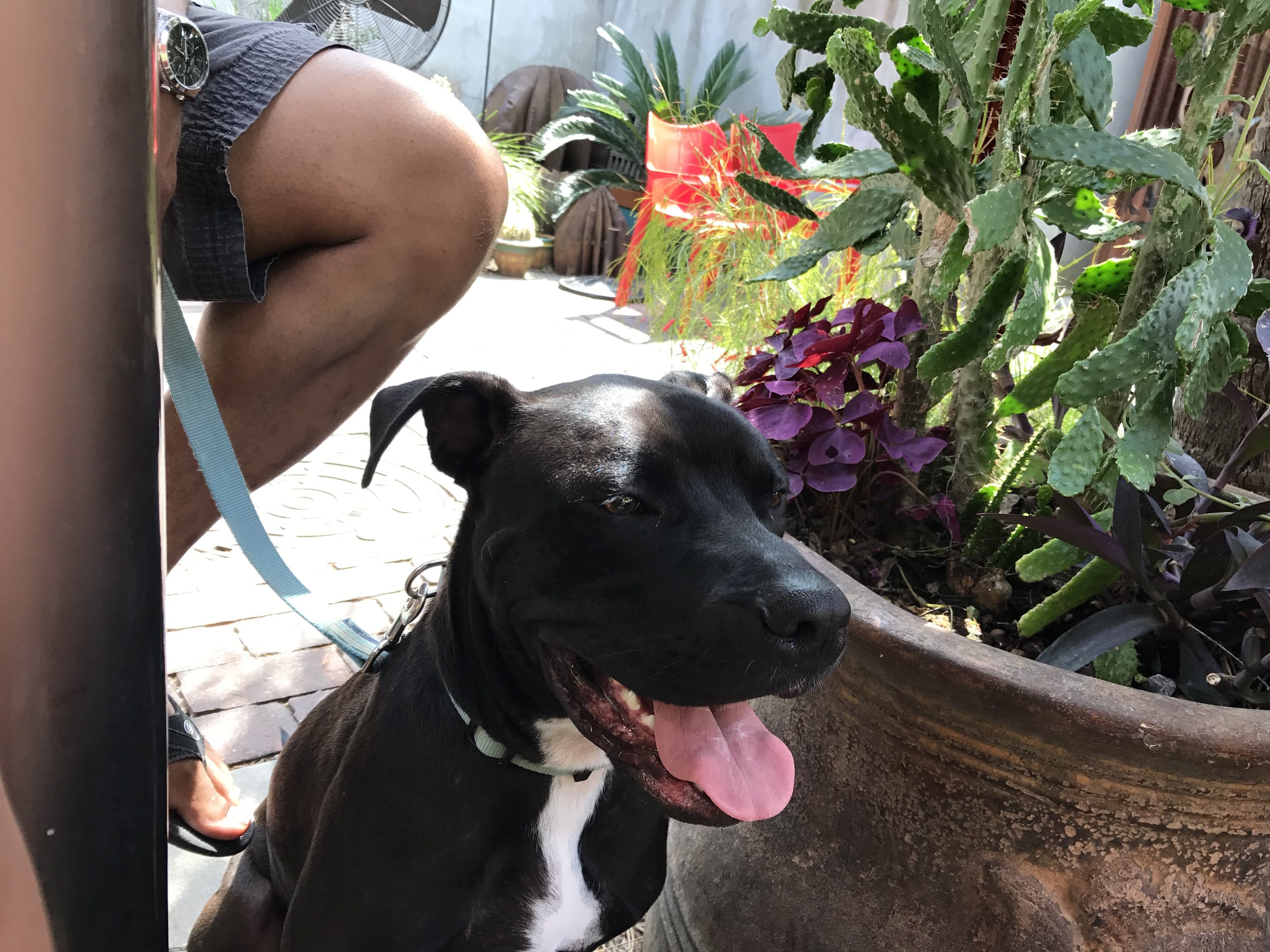 Hominy grill is a quaint and homey restaurant just a short walk from our Airbnb. After our morning at the beach, I thought we should head here for lunch. Hominy Grill did not disappoint. Every now and then I like to choose a healthy choice off the menu. After nearly 3 days of eating oysters (fried, smoked, and raw), hamburgers, fried anything, and endless drinks I decided to get the grilled eggplant & herbed goat cheese sandwich with roasted red peppers & grilled red onion on sunflower toast. YUM! It was absolutely delicious! Alonzo had the pork belly sandwich and I didn't hear from him until his plate was scraped clean so I'm pretty sure he thought it was awesome! Our food came out quick and we had a great conversation with one of our waiters about North Carolina. Can't beat that if you ask me! Hominy Grill is a great choice for a quick lunch.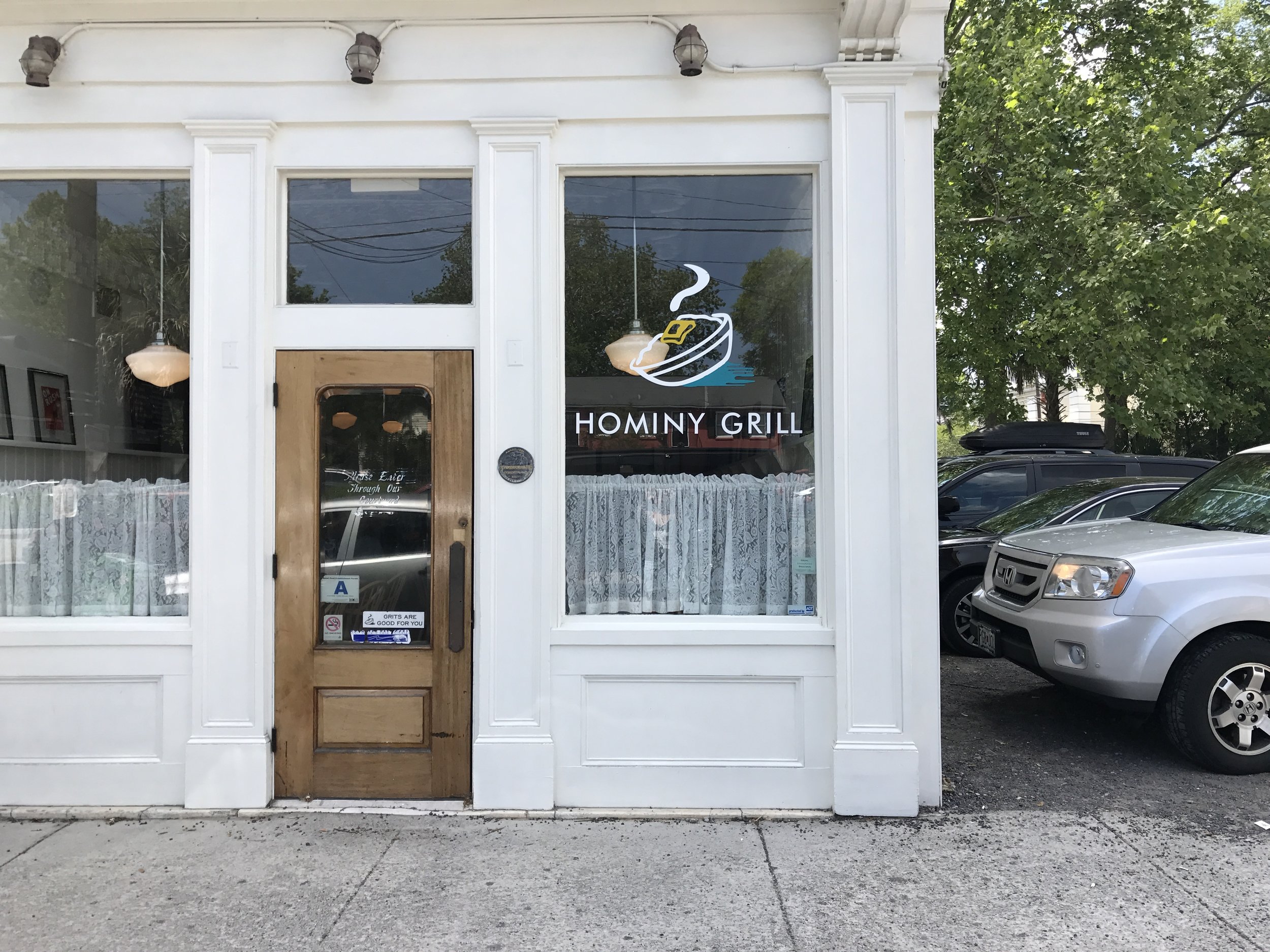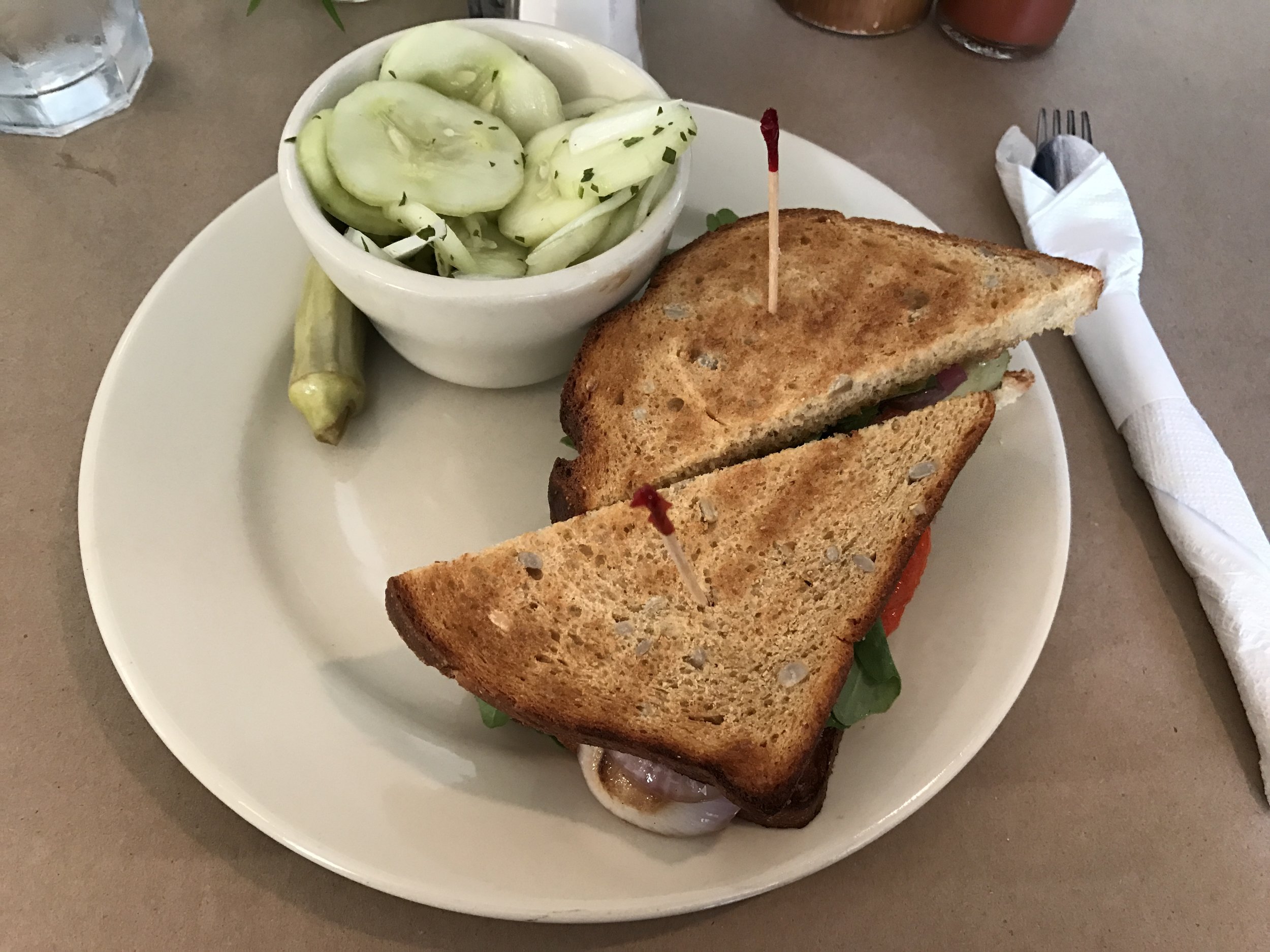 5Church
On Easter Sunday we decided we should go to 5Church. This building was so beautiful. I know the name is giving it away but it actually is an old restored church. We ended up eating on their patio but enjoyed the view of the gorgeous stain glass windows as we proceeded through the brunch buffet. I would have to say this was on of the best brunches we've been too!
Husk
I think everyone we talked to told us to go to Husk or at least have a drink at the Bar at Husk. Here's some advice when people advise you to make a reservation it's a serious matter in Charleston. Husk is constantly booked, especially during any holidays. Once we sat down we understood why. The service was lovely, the atmosphere was warm and welcoming and the food was delicious! The menu changes by the week and each dish is tailored to what is in season at the time. I really appreciated the science behind the creation of each meal. Dining at Husk is a must.
DRINKS.
Alonzo and I love trying new places but when it comes to a place to have cocktails once we find one we love we stick to it. Prohibition is a beautiful bar and restaurant that we frequented during our stay. Steve was our bartender and boy did we get lucky! Steve is ranked in the top 25 in the world and top 10 in the US for bartending. Needless to say, our cocktails were delicious! If you're there before 10:00 pm be sure to try their charred wings. You will not be disappointed, I promise.
If you're looking for a nice view of the town, The Watch (located in the Restoration Hotel) has that plus a great selection of cocktails and entrees.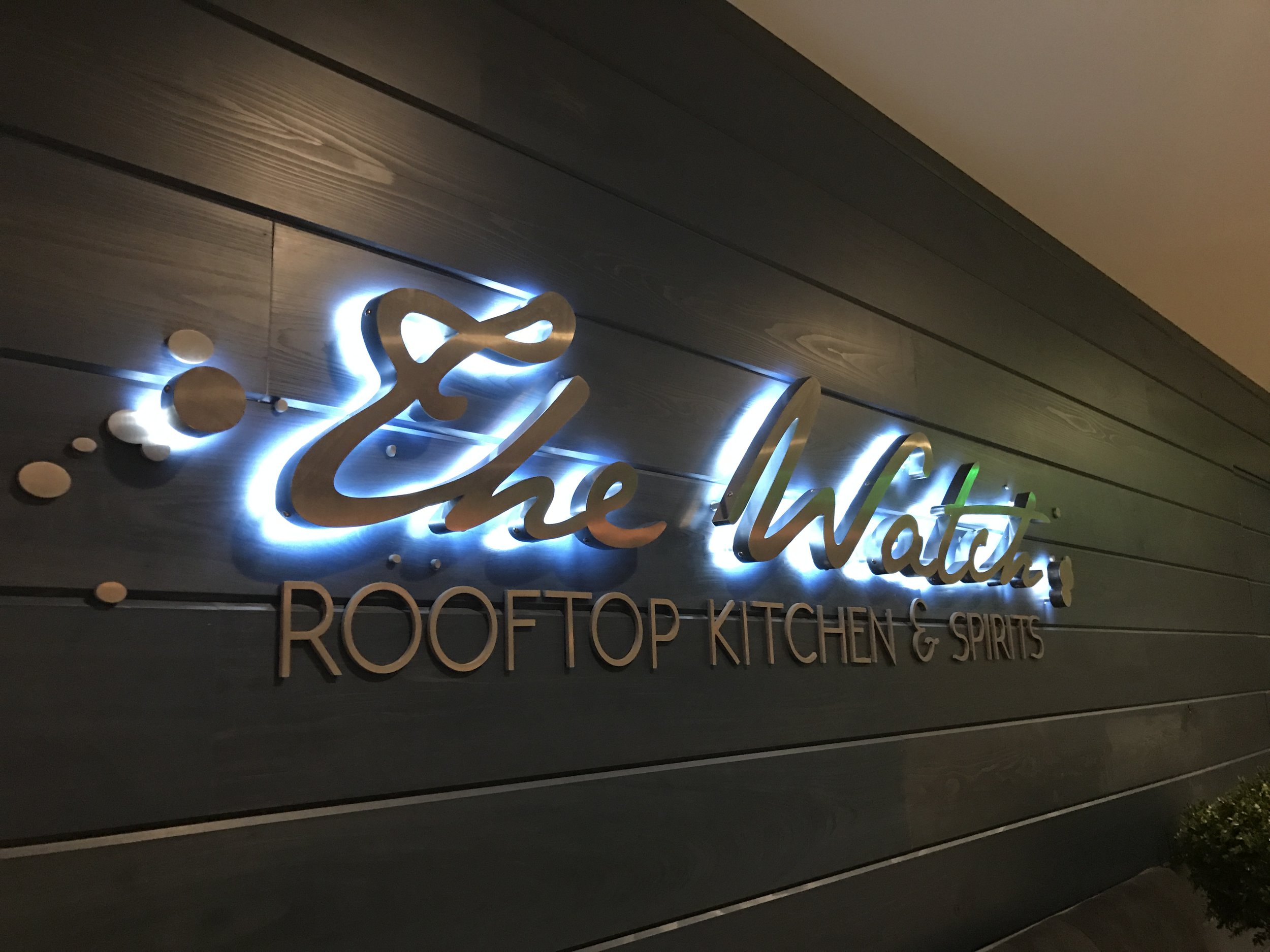 Here are some pictures from our day at Folly Beach!
Charleston stole a piece of my heart and we can't wait to go back!
Until Next Time...
xoxo,
Marcy MARZ