Living in Fayetteville, NC as a fashion and travel blogger can feel pretty lonely. For the past two years, I thought I was on my own. Then one day I connected with Krystel Spell of Army Wife 101. If you haven't heard of Army Wife 101 you definitely have been living under a rock. I was so excited to connect with her!
Krystal invited me to an influencers' event called SoFay17. SoFay17 was put together by a company called SoFluential and the Fayetteville Convention and Visitors Bureau. SoFluential was started by Krystal, Jennifer Morrison, and Angela Roy to create an influencer network with a focus on the military market.
#SoFay17 was #SoAwesome! Our day was packed with building great friendships, history, food, shopping, rock climbing, and even wine! I want to share with you some highlights from our day!
We started our day off at the Rainbow Restaurant. I'm not big on eating breakfast at home but when I go out for breakfast I like to go all out. I had pecan pancakes and bacon. It definitely kicked off our day just right!
Finding unique places in Fayetteville to take pictures I thought was my specialty. To my dismay, I missed an amazing photo op at White Trash Boutique! They have a yellow door and love lock wall! How cool! This shop is not only a great place to snap some photos but a great place to find unique gifts for any occasion!
PRESSED, A Creative Space is one of my favorite shops in the Fayetteville area. There are so many fun and unique items in this shop. Ashley Thompson, owner and founder of PRESSED, always stays up on the current trends. Ashley and her team create apparel items that simply make Fayetteville cool! I love the concept of this brand. Every guest I bring to town I make sure to stop in PRESSED. If you decide to visit PRESSED, getting a Loco Pop is a must! They are delicious and so refreshing!
My favorite meal of the day was at New Deli Restaurant. What a hidden gem! I had the Ankara Flat sandwich and a salad. It was ah-ma-zingg! The atmosphere, the service, food and desserts were great. I can't wait to take Alonzo there!
WinterBloom Tea is a beautiful tea shop right in the heart of Downtown Fayetteville. Josh, the owner of WinterBloom Tea hosted his first tea tasting with us! Let me tell you there's a lot to learn about tea. Did you know that all tea comes from the same plant? Or that black tea should be brewed ideally from 200-212F, Green tea (175F), White tea (185F), Oolong (185-200F), and Puer/Herbal (212F) degrees? I didn't even know that different teas should be brewed at certain temperatures! One takeaway I had was to stop heating your water up in the microwave (I only do that when I'm being lazy). Josh was funny and extremely knowledgeable! I felt like we were in his home having tea. It was a wonderful experience and I can't wait to take my mom there during her next visit.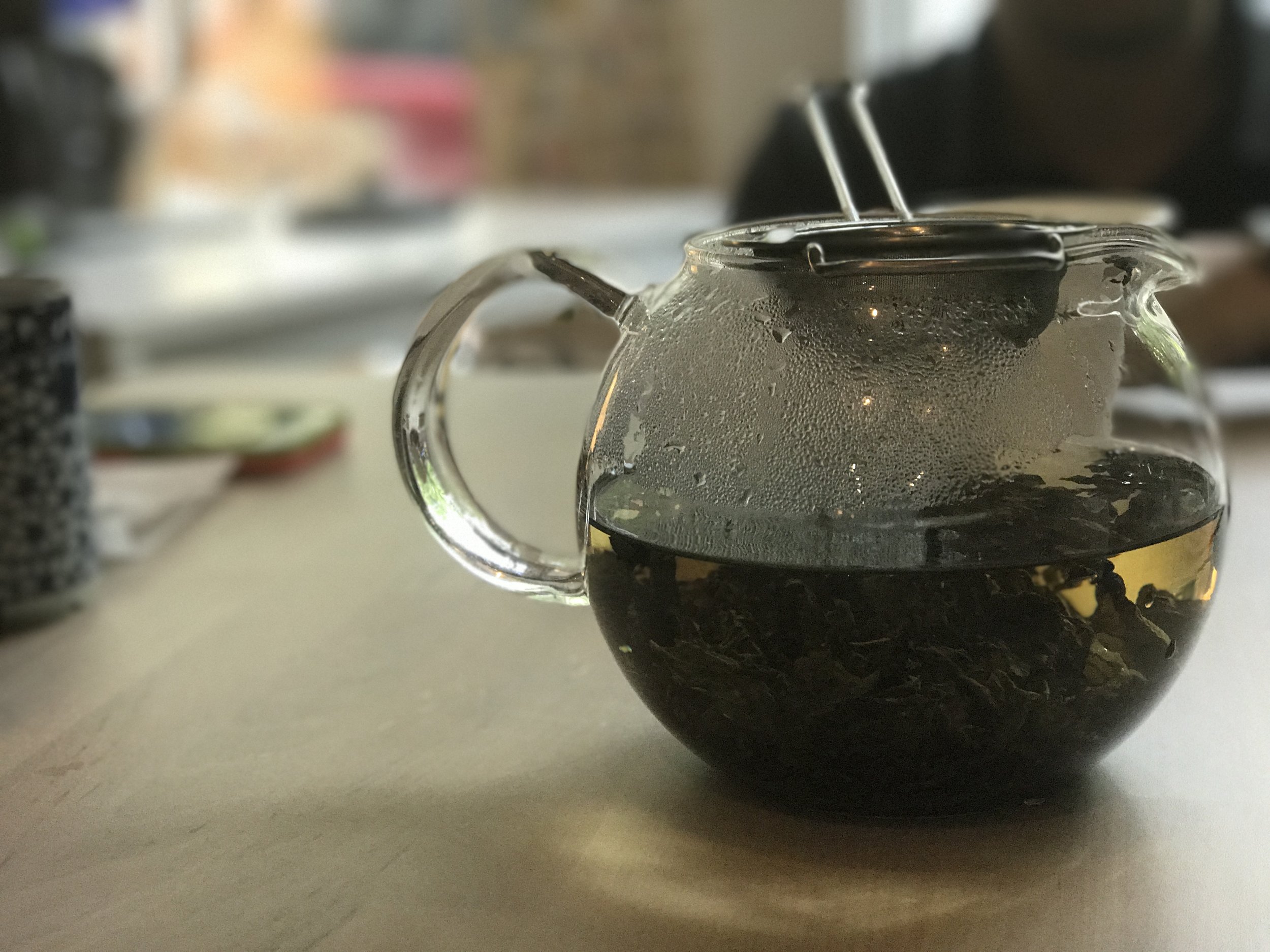 And my final highlight of the day was when we were in FORMATION at the Poe House.
Photo by: Angela Roy (@mommypr)
I have to thank all the participating businesses, Krystel Spell (@officialarmywife101), Angela Roy (@mommypr) and the Fayetteville Convention and Visitors Bureau. You all showered us with tons of swag, gifts, food, desserts, discounts and more! I loved learning about so many small businesses in town, some in which I hadn't been to! It's so often that you hear negative comments about Fayetteville but I believe the good definitely outweighs the bad!
Special shoutout to all my girls that participated in the tour, Cannie (@mznaturallife), Breena (@breena_blake), Lakesha (@milspouseretailcoach), Kay (@goodfood_goodreads), and Reese (@beingreese)! Make sure you follow them.
Until Next Time!
xoxo,
Marcy MARZ
I partnered with the Fayetteville Convention and Visitors Bureau to write this post. All opinions are my own and do not reflect those of the FCVB.